Recreational Vehicle Insurance in McPherson, KS and Lindsborg, KS
Keeping Off-roaders and Sports Enthusiasts Protected in McPherson and Lindsborg, KS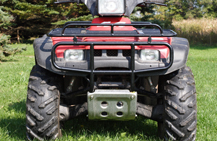 Whether you're cruising on the water in your favorite boat, traveling cross-country in a motor home, coursing through the sands in a dune buggy, or other, you need protection against the unexpected. The unexpected could include a collision, engine failure, and a host of other incidents that cause potentially expensive damages. To ensure that you don't have to pay for these damages out-of-pocket, consider investing in recreational vehicle (RV) insurance.
At the Elliott Insurance Agency, Inc. we offer advanced coverages that meet your needs. As a partner of numerous top insurance carriers, our coverages are diverse, broad, and flexible. No matter what kind of recreational riding or driving you do and regardless of the vehicle in which you do it, we can keep you secure if an exposure becomes a reality.
Coverages Tailored to your Activities and Vehicles
A recreational vehicle insurance policy is designed to protect you, any passengers you may have, and your vehicle. As rider and/or driver, you know that the intricacies of your experiences and of your vehicle or vehicles are many. The insurance you choose to cover your recreational activities should be rich in detail and comprehensive for this reason among others.
At Elliott Insurance, our agents assess your needs, risks, and goals and then identify coverage options that meet these needs, protect against these risks, and help you achieve your goals. The coverages from which you can choose include:
Boat Insurance
Motorcycle Insurance
Motorhome Insurance
ATV Insurance
Snowmobile Insurance
These coverages are brought together in an optimal plan that is expansive and cost-effective. Your plan includes more than protection, however; it includes discounts, benefits, and advantages that help you save and make your insurance more complete. Special coverages, adjustable premiums, and extended roadside assistance are among these. In addition, we will help you manage risk and claims, which also saves you money over time.
Dedicated Agents and Continuous Support
Owning and using a recreational vehicle is meant to give you a certain amount of freedom; the freedom to have fun and enjoy memorable, exciting experiences. Your recreational vehicle insurance should also give you freedom; freedom of concern for the costs of unforeseeable events. If done right, your insurance will keep you, passengers, and your vehicles protected over the long haul.
We believe in giving your more than cost-effective solutions. We give you consultative services that begin with comparisons of multiple quotes from different companies and continue throughout the life of your policy. Helping you manage risk and claims is a part of these services and is integral to providing you with as much value as possible.
To find our more, please contact us or give us a call. You can request a quote to get started finding out about your policy.
The Elliott Insurance Agency is proud to provide recreational vehicle insurance to adventurers in McPherson, Lindsborg, Inman, Galva, Hutchinson, and Hillsboro, KS. We serve other areas in the state as well.
---